With 155 years of experience, we manufacture textiles for luxury ready-to-wear and haute couture.
Our timeless fabrics are made of noble materials and produced with our historical expertise—a pledge of impeccable quality.
Our collections of fancy tweeds reflect the fashion world in their creativity and extravagance! These exclusive tweeds are made from fancy yarns with exuberant relief and luster for strong visual effects.
With their great aesthetic richness, our fabrics aim for excellence.
Since the 1980s, the Jules Tournier factory has been designing fancy tweeds.
Luxury and the extraordinary combine for an explosion of colors. The key word is creativity!
Anything is possible!
Our timeless fabrics are iconic weavings made up of noble fibers (mohairs, angora, alpaca, etc.). They are peacoats, woolen sheets, tartans, etc.
We make them with passion, perpetuating traditional processes passed down from generation to generation for over 155 years.
Our traditional expertise and our creativity are applied to finished products.
On request, we offer plaids, stoles, and scarves, woven felts for slippers, and protective masks for COVID-19.
Don't hesitate to contact us for more information.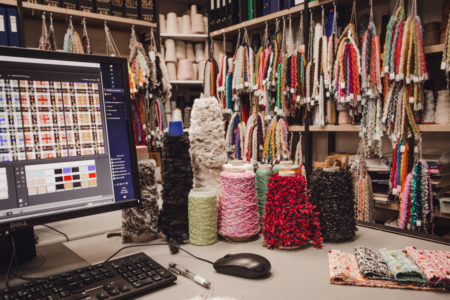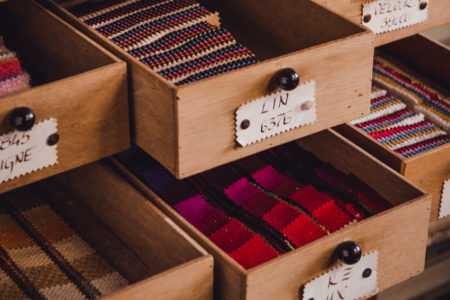 In constant contact with our clients' design offices, our team of textile designers develops more than a thousand new items per year.
The key word is creativity! Shimmering colors, exuberant reliefs, noble materials, and spectacular designs reign supreme and take their places in the most prestigious fashion houses.
Our designers have several strings to their bow. They create and select the threads used for each new collection. They design collections of fancy tweeds throughout the year. They respond to exclusive customer requests, carry out studies, and reinterpret the hundred-year-old archives of the factory. Creativity and responsiveness are the values that drive them.