– Our Design Department –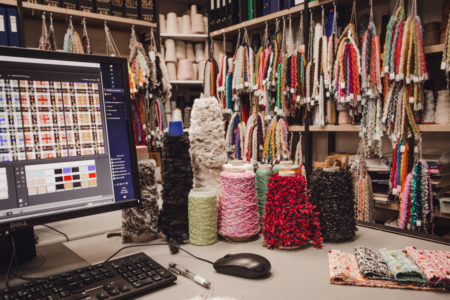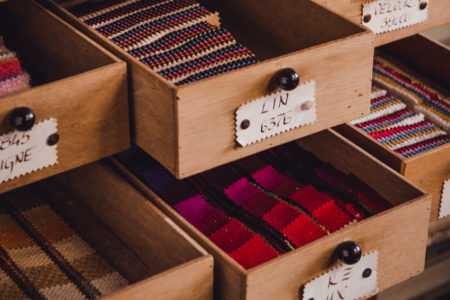 In constant contact with our clients' design offices, our team of textile designers develops more than a thousand new items per year.
The key word is creativity! Shimmering colors, exuberant reliefs, noble materials, and spectacular designs reign supreme and take their places in the most prestigious fashion houses.
Our designers have several strings to their bow. They create and select the threads used for each new collection. They design collections of fancy tweeds throughout the year. They respond to exclusive customer requests, carry out studies, and reinterpret the hundred-year-old archives of the factory. Creativity and responsiveness are the values that drive them.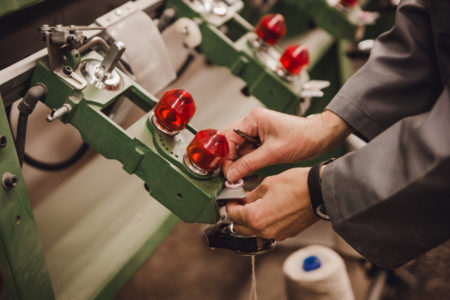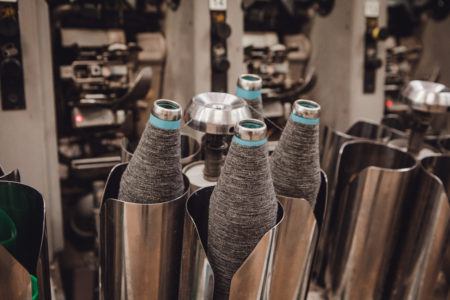 A fully vertically integrated factory, we control all stages of manufacturing for our fabrics. Our priority is the custom design of new cloths that meet the specifications of our customers.
All of these industrial capabilities allow us to be a major player in the protective glove market and the world leader in fencing fabrics; we position ourselves in high value-added niche markets.
Jules Tournier is the ideal partner in developing solutions adapted to your requirements!
From spinning to finishing, at Jules Tournier, all stages of production are carried out in our workshops.
The manufacturing process begins with choosing raw materials.
Creation is in our DNA. At a wool merchant, I locate and select the material. Then, based on its length, its fineness, its purity, I know immediately which thread to use it in to develop a particular fabric."
This rigorous selection is the result of experience, eye, touch, an enduring trust established with the producers, and a real respect for the end customer.
We hold the same high standards for the selection of fancy yarns (metallics, prints, etc.) that we do for fibers and the synthetic materials intended for technical fabrics.
– The Spinning Workshop –
It is at this point that the bales of raw materials are processed in the Spinning Workshop. From the fibers, kilometers of continuous thread are obtained.
At Jules Tournier, we exclusively produce carded yarns. The fibers go through the stages of mixing, oiling, opening, carding, lapping, end-of-card rolling, spinning, twisting, and finally winding.
They talk about their job
I like everything about the twisting machine. The batches are varied, there are the colors, the counts, the settings to manage… I like all of that.
Antoinette, machine operator at the Spinning Workshop
– The Weaving Workshop –​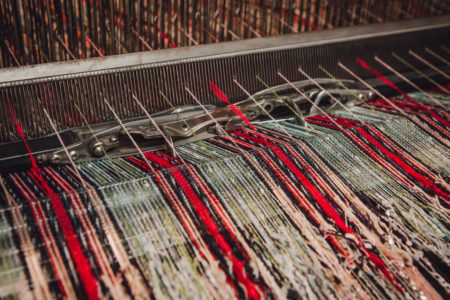 Weaving is an essential step; at the Weaving Workshop, the threads are warped and then woven on dobby looms.
We are equipped with a high-performance machine base, allowing us to offer our customers irreproachable manufacturing quality.
They talk about their job
One must combine technical expertise and intuition to use a loom to its full potential."
Clément, Weaving Workshop foreman/weaver
– The Knitting Workshop –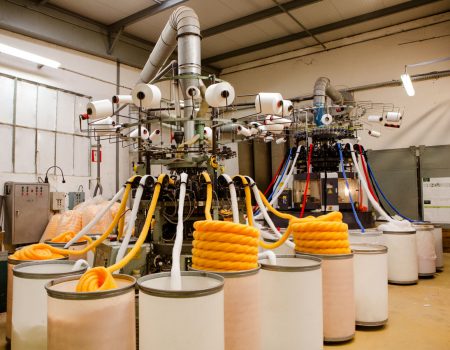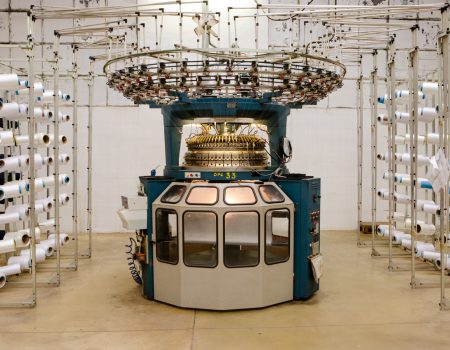 In this workshop, threads are knitted on circular looms. The fabrics thus produced are intended mainly for Personal Protective Equipment (PPE) manufacturing.
They talk about their job
What characterizes us is that we are able to manage everything [in knitting] in small or large quantities, to meet the needs of customers."
Christian, Administrative and Production Manager of the Knitting Workshop.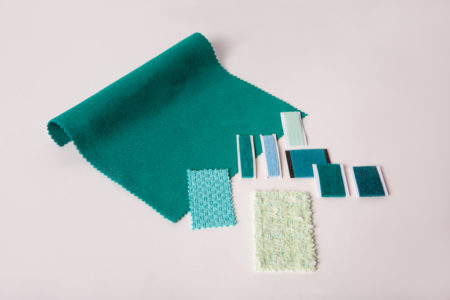 All our dyes are REACH certified and are produced by our partner PLO Ennoblisseur, which ensures full traceability and confidentiality for our customers.
We are experts in the four technical dyeing processes—stock (natural and synthetic fibers), yarn, fabric (after weaving/knitting), and garment.
As an example, garment dyeing allows one to color a finished garment that was made undyed. The incredible diversity of dyeing processes at our disposal gives us exceptional flexibility and responsiveness.
– The Finishing Workshop –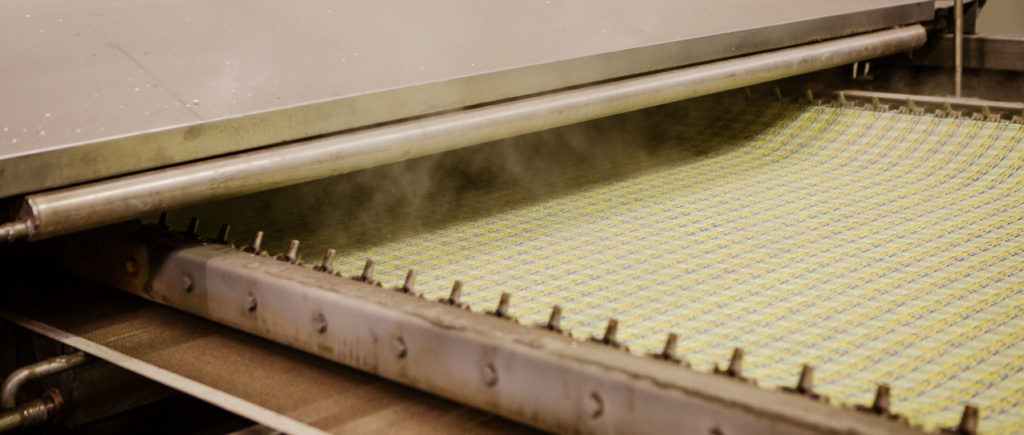 Weaving and knitting are followed by finishing, which requires numerous machines and is essential to the full process of manufacturing a textile.
Whether dry, wet, thermal, mechanical, or chemical, finishing involves operations that can modify the visual appearance of a fabric, add new properties to it (waterproof, fire-retardant, water-repellent, stain-resistant, anti-pilling, shiny, silky, etc.), and improve its feel.
The raw fabrics are finished and enhanced during the finishing processes.
They talk about their job
At Finishing, there are around twenty different machines that all add something new to the appearance of the fabric
Pierre, Head of Wet Finishing.
In the 1950s, the company developed a coated felt fabric to make non-slip soles. This innovation has enabled us today to be the last manufacturer in the world of woven wool felt for footwear.
The enduring resilience of this article in our factory is due in part to a working tradition passed down from generation to generation and to the use of old machines dating from the previous century.
Our wooden washers allow us to finish the felts and obtain a unique aspect that the most modern appliances cannot achieve.
It is also thanks to our textile engineers, who have developed complex weaves involving 3 or 5 warps, that our woven wool felt stands out from the glued-on plastic soles commonly seen on the market.
Our textile skills, along with our desire to innovate, have enabled Jules Tournier to obtain the Entreprise du Patrimoine Vivant (EPV) label of excellence for craftsmanship. This recognition is the guarantee of unique savoir-faire based on mastery of traditional processes. It also rewards our desire to transmit and preserve our exceptional industrial heritage.
– Contract Manufacturing –
All of our workshops are also able to respond to any subcontracting request.
Subject, of course, to validation by our technical services and according to our production minimums, we are always enthusiastic about the idea of developing industrial partnerships.
Feel free to contact us for further information.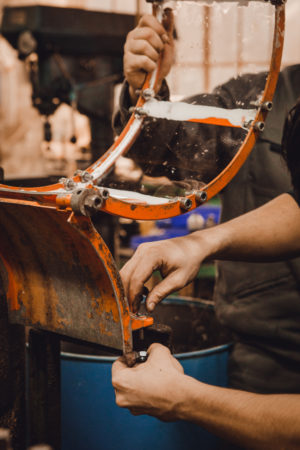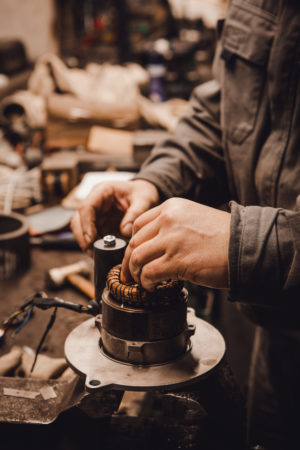 With such a large, diverse fleet of machines, equipment maintenance is an essential concern. Our Maintenance Workshop is made up of teams of technicians trained in the maintenance of industrial systems.
Mechanics, electricians, turner-millers, welders, and electromechanics meet all the needs of our production workshops on a daily basis.
Working with both old mechanisms and modern machines, we also have a network of specialized suppliers able to manufacture custom parts.