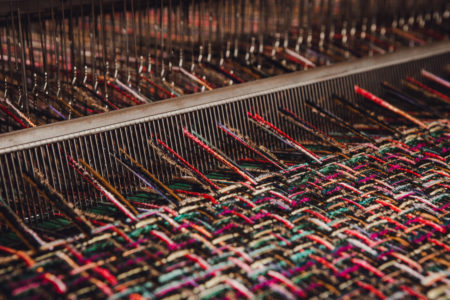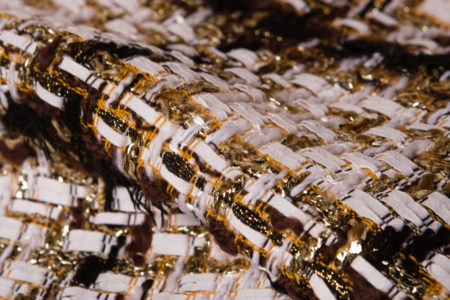 These ranges of fabrics are made up of various yarns—tricotine, flag yarns, pompom yarns, sequined yarns, printed yarns, metallic and iridescent yarns, tape yarns, chopped yarns, ribbon yarns, Lurex® yarns, paper yarns, etc.
Our collections are made up of several types and styles of fabrics—textured plain weaves, semi-plains, with small and large designs, houndstooth, shepherd's-check, glencheck, stretch fabrics, recycled tweeds.
In recent years, we have developed more and more 100% recycled fancy tweeds to meet growing demand.
Because of their manufacturing complexity, the richness of the materials they are made with, and their strong aesthetic, these fabrics today attract the most prestigious brands.
For each fabric, we offer a range of colors. Our design office also makes every effort to meet your needs. It is possible to adapt our fabrics to your desires and make custom patterns for you. In addition, we make our archives available to our clients—a generous and inexhaustible source of inspiration.
KEYWORDS: plaid, houndstooth, glencheck, wool, responsiveness, exclusivity, creativity, tailor-made, aesthetics, fancy, tweed, Chanel-style fabric, warp and weft, fashion, style, haute-couture, luxury, Harris tweed.
To find out more about our
- OUR COLLECTION OF FASHION FABRICS AND ACCESSORIES -
In the Weaving Workshop, fancy weaves are woven on special loom assemblies where the reeds, the threading, and the knotting are determined by the variations of thread sizes present in each fabric. These technical specificities give our articles all their richness.
Discover new textiles or revisit old favorites...
A fully vertically integrated company, we are experts in and control all stages of manufacturing, from the selection of raw material to the finished fabric.
ISO 9001 certified, we carry out testing at each stage of manufacturing of our fabrics.
Located in the Tarn since its creation in 1865, the workshops of the Jules Tournier factory are spread over several production sites in the municipalities of Mazamet, Aussillon, and Pont de l'Arn.
This arrangement guarantees you MADE IN FRANCE production