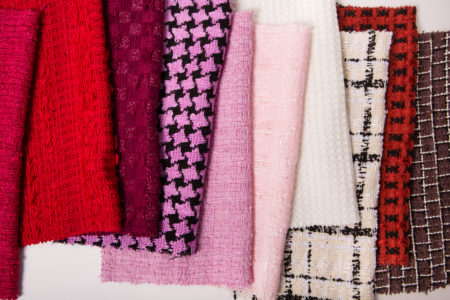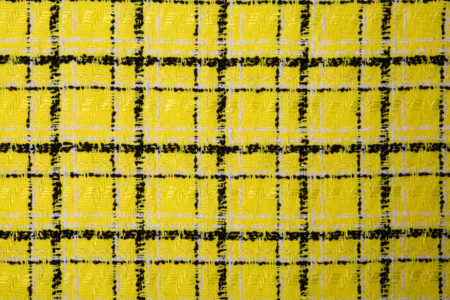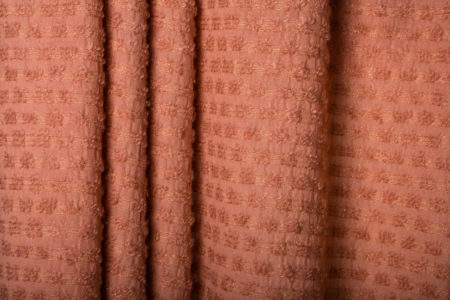 The processes put in place to produce our piece-dyed tweeds let us offer you fancy fabric qualities in your own colors.
Using plain weave fabrics, tie-dyed fabrics, or fabrics dyed with color reserves, these products are mainly composed of wool for winter collections and silk, linen, or cotton for summer collections. Depending on their composition, our piece-dyed fabrics are made using single or double dyeing.
In addition, at our partner, PLO-Ennoblisseur, the colors comply with the REACH standard and are GBTest certified.
KEYWORDS: dyeing, coloring, raised pattern, textured, woven, structured, reactivity, exclusivity, creativity, custom, aesthetics, fancy, tweed, Chanel-style fabric, warp and weft, fashion, style, haute-couture, luxury, yarn-dyed, piece-dyed.
To find out more about our
- OUR COLLECTION OF FASHION FABRICS AND ACCESSORIES -
In the Weaving Workshop, fancy weaves are woven on special loom assemblies where the reeds, the threading, and the knotting are determined by the variations of thread sizes present in each fabric. These technical specificities give our articles all their richness.
Discover new textiles or revisit old favorites...
A fully vertically integrated company, we are experts in and control all stages of manufacturing, from the selection of raw material to the finished fabric.
ISO 9001 certified, we carry out testing at each stage of manufacturing of our fabrics.
Located in the Tarn since its creation in 1865, the workshops of the Jules Tournier factory are spread over several production sites in the municipalities of Mazamet, Aussillon, and Pont de l'Arn.
This arrangement guarantees you MADE IN FRANCE production